Angkor Wat Charity Virtual Run
Event Navigation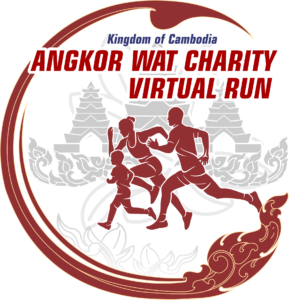 Dear Runners and supporters around the world,
On behalf of the Cambodian Marathon Organizer in Cambodia, we would like to express our sincere thanks and gratitude for your participation in our last Angkor Wat International Half Marathon, Angkor Empire Marathon, Phnom Penh Marathon..etc. in Cambodia. Due to the pandemic situation viciously spreading to many countries around the world, we therefore still try to keep our contact to all runners and supporters to activate the fitness and promote family health worldwide. By this means, we create our Angkor Wat Virtual Run 2021 – 2nd Edition with slogan Run for Charity Fundraising will go to support the Kantha Bopha Children Hospital in Cambodia. We will show the result of Charity donation to the organizations as well as participants' charity donation on our website after the race.
All runners after complete own race category, will properly receive the special  Finisher T-Shirts, amazing Finisher Medals and E Bib Certificates from the homeland of the Angkor Wat  Marathon Committee.
It will be our great appreciation and our warmest thanks for your kind participation in this world event.
Once again, we sincerely pray to the Gods of Angkor Wat temple and pray to your own Gods for the blessing to protect all of you and your lovely families through all times.
Sincerely yours
Cambodian Events Organizer / CEO
How to register:
I. Oversea participants
Online-Registration for Worldwide participants:
– Registration link (World Marathon): Click Here
Period of Event: 
Registration date: 01 March 2021 – 31 October 2021
Running date start from: 01 April 2021 – on wards
Shipping date  start from: 01 June 2021 – on wards
Distance:   42Km, 21Km, 10Km & 5Km
Location: Anywhere
Timing: Tracking App, GPS watch, or treadmill screenshot.
Submit result:  log in World's Marathon, add time (hr: mm) and distance (KM) with one image as prove. Also can add a photo of the activities and save in photo gallery.
Angkor Wat Virtual Charity Run 2021 –  the 2nd edition, with the slogan "Run for Charity and World Health". $5 from every ticket sold will be donated to charity.
Each finisher will receive an E-bib, E-certificate and a charity thank you note.
All runners also have an opportunity to additionally purchase amazing Finisher Medals or a Medal+T-shirt combo, both with shipping included in the price. Those will be sent out up to two weeks after submitting the results, from the 1st of May onwards.
Please note that we are not able to send any merchandise to India.
Registration Options:
– Registration with Premium Packages, Registration fee is included
1/ Event T-shirt 2/ Finisher Medal 3/E-bib 4/ E-Result Certificate 5/ E-Donation Charity Thank you
– Registration with Full Packages, Registration fee is included
2/ Finisher Medal 2/E-bib 3/ E-Result Certificate 4/ E-Donation Charity Thank you
– Registration with Basic Packages, Registration fee is included
3/ E-Bib, 2/ E-Result Certificate 3/ E-Donation Charity Thank you
*** US$5 in the registration fee ill distribute to poor children
How to Sumit the Result?
Log in to your account World's Marathons
Provide your finish time and distance
Upload the screenshot of your recorded activity or a treadmill photo
Upload the photo from your run for the Finisher's gallery
When will my race package be sent?
The Angkor Virtual Run 2021 start from now on. The Committee will start to send ordered medals, T shirts, ..to runners from 1st May onwards. We will send ordered items to runners 2 weeks after receiving the timing result from runners.
All the best wishes and thank you so much to all runners who register in this charity event.
Best regards
Marathon Committee of Cambodia