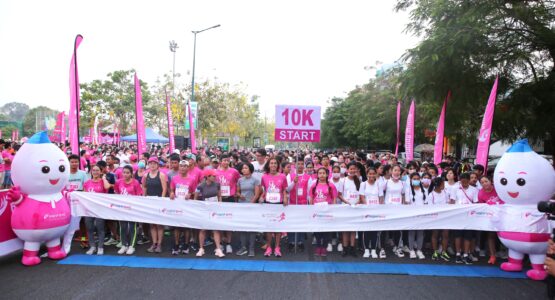 ព្រឹត្តិការណ៍រត់ប្រណាំងសម្រាប់វីរៈភាពស្ត្រីនៅកម្ពុជា! ស្រី្តបានដើរតួនាទីយ៉ាងសំខាន់ នៅក្នុងប្រវត្តិសាស្រ្ត និង សង្គមបច្ចុប្បន្នក្នុងប្រទេសកម្ពុជា ។ ក្នុងឱកាសទិវាសិទ្ធនារីអន្តរជាតិនាថ្ងៃទី ០៨ មីនា ឆ្នាំ ២០២៣ ខាងមុខនេះ។ ដោយការគោរព​​ដ៏ខ្ពង់ខ្ពស់  និង កោតសរសើរយ៉ាងជ្រៀលជ្រៅបំផុតចំពោះតួនាទីដ៏សំខាន់របស់ស្រ្តី គណៈកម្មាធិការជាតិអូឡាំពិកកម្ពុជា និង គណៈកម្មាធិការ ប្រតិបត្តិម៉ារ៉ាតុងកម្ពុជា សហការ ជាមួយអាជ្ញាធរដែនដី បានបង្កើតព្រឹត្តិការណ៍ រត់ប្រណាំងសម្រាប់វីរៈភាពស្ត្រី នៅប្រទេសកម្ពុជា។ ក្នុងឱកាសនេះ យើងខ្ញុំ សូមគោរពអញ្ជើញស្ត្រី ក៏ដូចជាក្រុមគ្រួសារជាទីស្រឡាញ់ទាំងអស់ ចូលរួមកុំបីខានក្នុងព្រឹត្តិការណ៍កីឡានាថ្ងៃ ទិវាសិទ្ធិនារីអន្តរជាតិ ប្រវត្តិសាស្ត្រនេះ។ សូមអរគុណចំពោះការគាំទ្រនិងការចូលរួមដ៏មានតំលៃរបស់អ្នក! គណៈកម្មាធិការម៉ារ៉ាតុង The epic running event for women in Cambodia! Women have been playing one of the most important roles in Cambodian
Angkor City Night Music Run
The Ministry of Tourism, Siem Reap Governmental Authority and National Olympic committee of Cambodia as well as The Cambodian Marathon Committee would like to invite all tourists and people who love fun run to participate the exceptional Night Music Run at the busy district of PUB STREET in Siem Reap City, The race start from here where all tourists will cheer for your departure sounding by famous band of rock music, you will certainly feel great and exciting to run in the night of this old city, the city of Khmer civilization dated from 9th century with the well-known world heritage Angkor wat & Angkor Thom temples. Your course of 4km will be on the main streets, along the ancient stream of Stung Siem Reap in town from which the water is originated from Kulen Mountain – The Ancient city since 9th century before the Angkor Wat constructed.
The runners will be granted memorial finisher medals, celebrated with concert live music, snacks and drinks with lucky draw and fire-work at the incredible venue.
When you are in Siem Reap town, this is the event which you will not forget! It certainly brings to you a great memory in Cambodia.